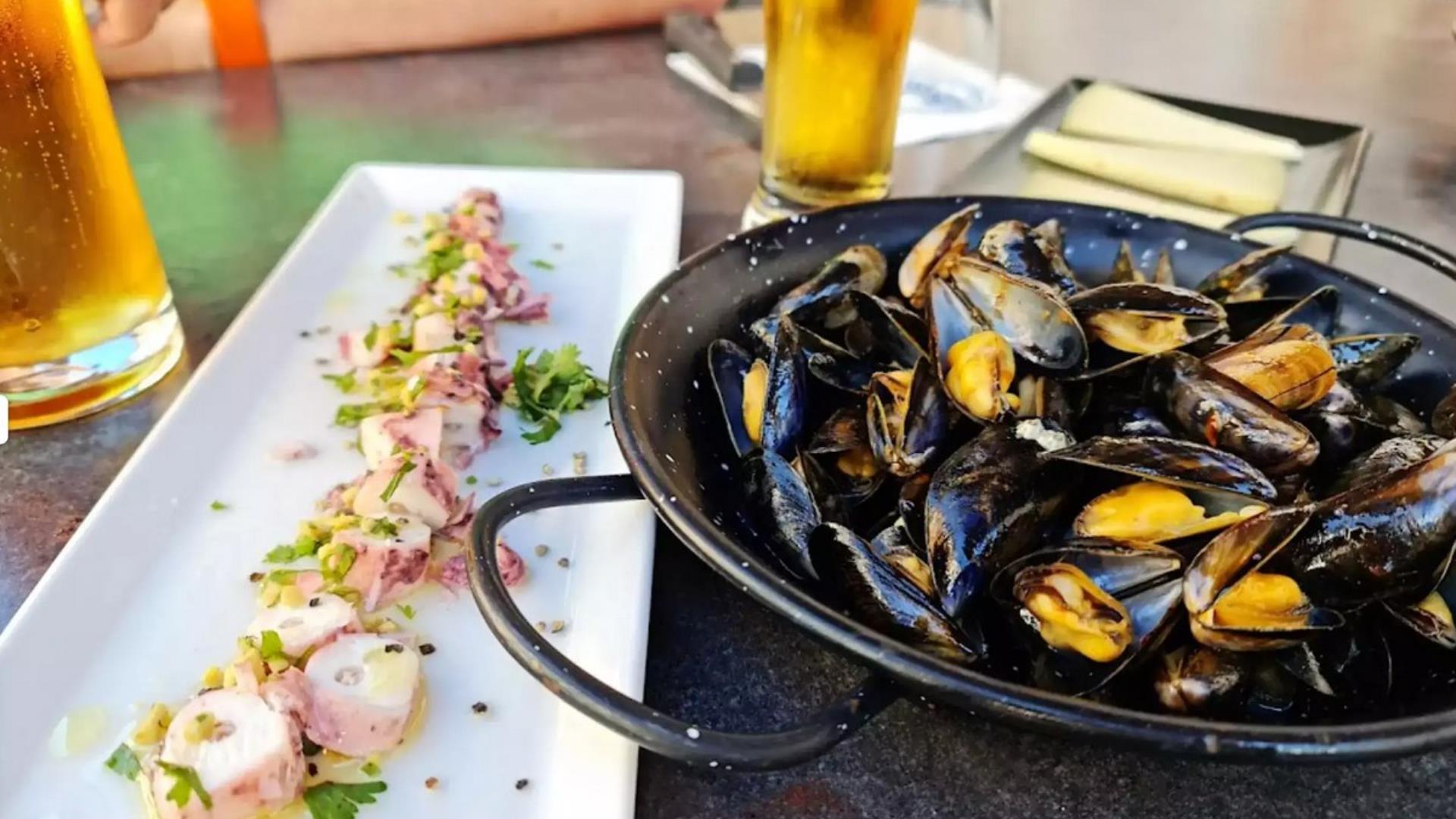 LE FLORIDABLANCA
Bar-restaurant
Presentation
The Floridablanca opened its doors in 2017, rue trivalle, halfway between the Bastide and the Medieval City.
Jean-Loup, affable, delights his clientele, which mixes just as many tourists as "figures" from Carcassonne, with culinary preparations largely inspired by his Mediterranean culture.
His sidekick Quentin, at the service, takes care of everyone with great attention.
On the menu, there are dishes and tapas: from squid and homemade aioli to padrons, including a beef pika-pika or a few calçots...
Three rooms, three atmospheres for snacking, eating or sharing a drink:
- a sunny terrace which welcomes you on the trivalle side,
- the room of the bar-restaurant all in length in the Spanish fashion,
- a cozy patio in the back room.
LE FLORIDABLANCA
22, rue Trivalle
CARCASSONNE 11000
Openning Time(s)
From the 01/04/2023 to the 22/04/2023
| | | |
| --- | --- | --- |
| Monday | | Closed |
| Tuesday | 12:00 - 14:00 | 18:00 - 22:00 |
| Wednesday | 12:00 - 14:00 | 18:00 - 22:00 |
| Thurday | 12:00 - 14:00 | 18:00 - 22:00 |
| Friday | 12:00 - 14:00 | 18:00 - 22:00 |
| Saturday | 12:00 - 14:00 | 18:00 - 22:00 |
| Sunday | | Closed |
From the 09/05/2023 to the 30/06/2023
| | | |
| --- | --- | --- |
| Monday | | Closed |
| Tuesday | 12:00 - 14:00 | 18:00 - 22:00 |
| Wednesday | 12:00 - 14:00 | 18:00 - 22:00 |
| Thurday | 12:00 - 14:00 | 18:00 - 22:00 |
| Friday | 12:00 - 14:00 | 18:00 - 22:00 |
| Saturday | 12:00 - 14:00 | 18:00 - 22:00 |
| Sunday | | Closed |
From the 01/07/2023 to the 31/08/2023
| | | |
| --- | --- | --- |
| Monday | 12:00 - 14:00 | 18:00 - 22:00 |
| Tuesday | 12:00 - 14:00 | 18:00 - 22:00 |
| Wednesday | 12:00 - 14:00 | 18:00 - 22:00 |
| Thurday | 12:00 - 14:00 | 18:00 - 22:00 |
| Friday | 12:00 - 14:00 | 18:00 - 22:00 |
| Saturday | 12:00 - 14:00 | 18:00 - 22:00 |
| Sunday | | Closed |
From the 01/09/2023 to the 21/10/2023
| | | |
| --- | --- | --- |
| Monday | | Closed |
| Tuesday | 12:00 - 14:00 | 18:00 - 22:00 |
| Wednesday | 12:00 - 14:00 | 18:00 - 22:00 |
| Thurday | 12:00 - 14:00 | 18:00 - 22:00 |
| Friday | 12:00 - 14:00 | 18:00 - 22:00 |
| Saturday | 12:00 - 14:00 | 18:00 - 22:00 |
| Sunday | | Closed |
From the 07/11/2023 to the 23/12/2023
| | | |
| --- | --- | --- |
| Monday | | Closed |
| Tuesday | 12:00 - 14:00 | 18:00 - 22:00 |
| Wednesday | 12:00 - 14:00 | 18:00 - 22:00 |
| Thurday | 12:00 - 14:00 | 18:00 - 22:00 |
| Friday | 12:00 - 14:00 | 18:00 - 22:00 |
| Saturday | 12:00 - 14:00 | 18:00 - 22:00 |
| Sunday | | Closed |
Practical information
Pets allowed
Wheelchair accessible
Bar
Terrace
WIFI
Service deliveries
Themes
Tapas bar
Theme restaurant
Culinary specialities
Mediterranean cuisine
Seafood
Tapas
Prices
Minimum price
(in €)
Maximum price
(in €)
Set menu
18€
18€