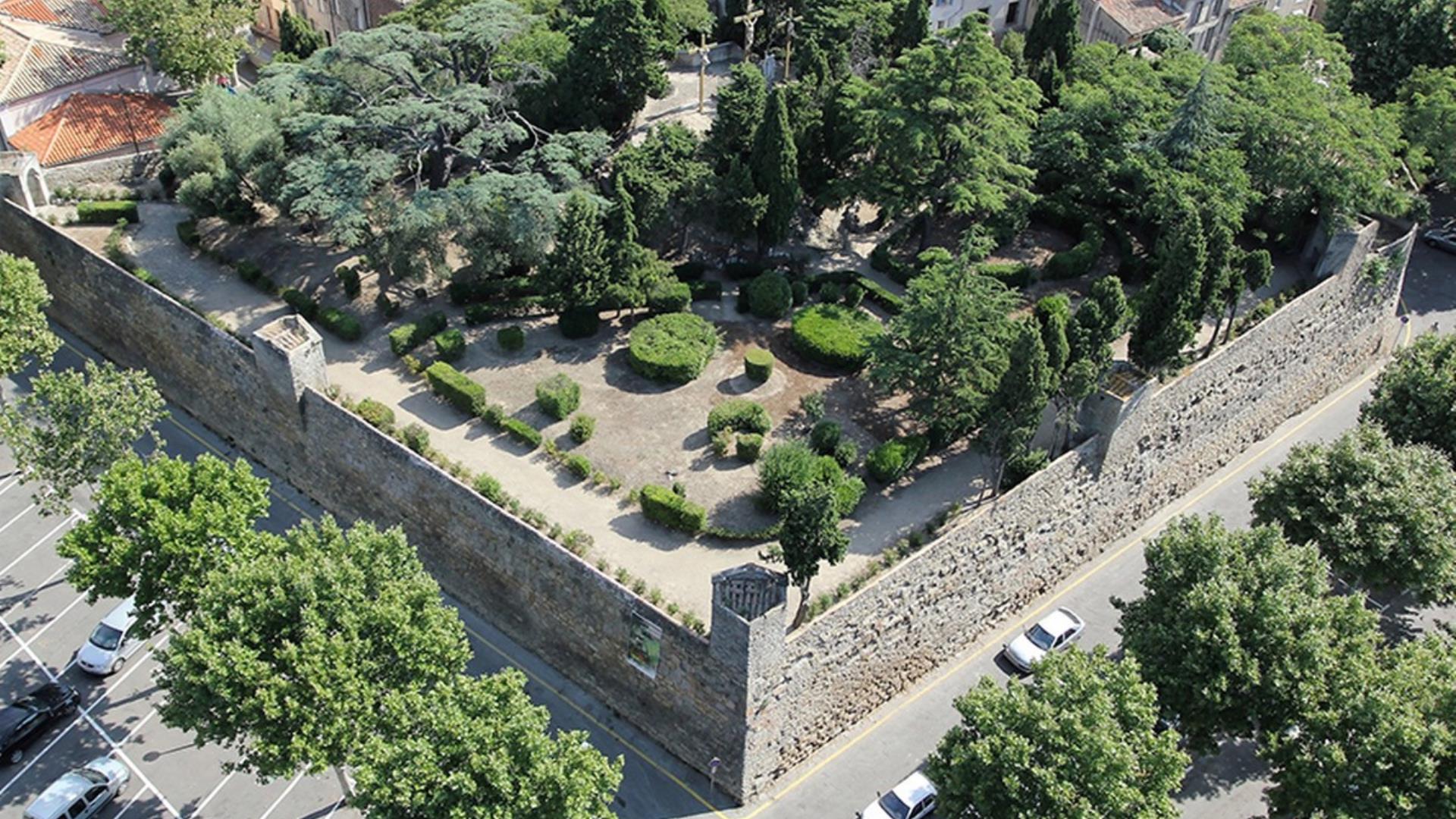 CALVARY GARDEN
Parks, gardens and arboretums
Presentation
The imposing wall of the bastion, from the 16th century, remodeled at the dawn of the 19th century, remains one of the witnesses of the defensive system of the "lower town" of Carcassonne. In the garden of the bastion, the 14 stations of the Way of the Cross, with
high-reliefs in terracotta hidden in niches, offer an original route, different from the usual canonical program. Finally, the iconography (cast iron statues of Calvary) is also original.
The landscape dimension of the place is also interesting and makes sense. It is made up of species present in the Bible. The plantations remain consistent with the overall project, and give the place its charm and its Mediterranean character. The last major rehabilitation resulted in the reopening to the public in 2011.
CALVARY GARDEN
103 Rue Voltaire
CARCASSONNE 11000
Openning Time(s)
From the 01/01/2023 to the 30/06/2023
| | | |
| --- | --- | --- |
| Monday | 10:00 - 12:00 | 14:00 - 18:00 |
| Tuesday | 10:00 - 12:00 | 14:00 - 18:00 |
| Wednesday | 10:00 - 12:00 | 14:00 - 18:00 |
| Thurday | 10:00 - 12:00 | 14:00 - 18:00 |
| Friday | 10:00 - 12:00 | 14:00 - 18:00 |
| Saturday | 10:00 - 12:00 | 14:00 - 18:00 |
| Sunday | 10:00 - 12:00 | 14:00 - 18:00 |
From the 01/07/2023 to the 31/08/2023
| | | |
| --- | --- | --- |
| Monday | 09:00 - 12:00 | 14:00 - 19:00 |
| Tuesday | 09:00 - 12:00 | 14:00 - 19:00 |
| Wednesday | 09:00 - 12:00 | 14:00 - 19:00 |
| Thurday | 09:00 - 12:00 | 14:00 - 19:00 |
| Friday | 09:00 - 12:00 | 14:00 - 19:00 |
| Saturday | 09:00 - 12:00 | 14:00 - 19:00 |
| Sunday | 09:00 - 12:00 | 14:00 - 19:00 |
From the 01/09/2023 to the 31/12/2023
| | | |
| --- | --- | --- |
| Monday | 09:00 - 12:00 | 14:00 - 18:00 |
| Tuesday | 09:00 - 12:00 | 14:00 - 18:00 |
| Wednesday | 09:00 - 12:00 | 14:00 - 18:00 |
| Thurday | 09:00 - 12:00 | 14:00 - 18:00 |
| Friday | 09:00 - 12:00 | 14:00 - 18:00 |
| Saturday | 09:00 - 12:00 | 14:00 - 18:00 |
| Sunday | 09:00 - 12:00 | 14:00 - 18:00 |
From the 01/09/2023 to the 31/12/2023
| | | |
| --- | --- | --- |
| Monday | 09:00 - 12:00 | 14:00 - 18:00 |
| Tuesday | 09:00 - 12:00 | 14:00 - 18:00 |
| Wednesday | 09:00 - 12:00 | 14:00 - 18:00 |
| Thurday | 09:00 - 12:00 | 14:00 - 18:00 |
| Friday | 09:00 - 12:00 | 14:00 - 18:00 |
| Saturday | 09:00 - 12:00 | 14:00 - 18:00 |
| Sunday | 09:00 - 12:00 | 14:00 - 18:00 |